Join us on a unique journey to the heart of indigenous Taino culture and some of the most amazing caves in the Dominican Republic. Our adventure begins in the quiet fishing town of Bayahibe, where we set out on a light hike into the beautiful National Park of the East, one of the largest national parks in the country.
Our route takes us through the dry tropical forest  in the region of Padre Nuestro, where a small community once existed but now works to preserve the  natural beauty and resources found in this region.  The settlers originally migrated here because it is an area rich in water and edible vegetation. The trail takes us to several large caves, some containing underground rivers and lagoons, the perfect opportunity to live an unforgettable experience: to actually bathe in the cool subterranean waters that were once an important part of indigenous life in the region hundreds of years ago. Here we find many pieces of Taino Indian art depicting life before Columbus on the island. A unique experience which few tourists get to live, save for scientists and true nature lovers.
We follow this up with a delicious Dominican style seafood lunch on the sands of one of the most beautiful virgin beaches around. After lunch we set out on one more short hike to one of the largest and most breathtaking caves in the area, Cueva del Puente. Parts of this cave are only accessible with flashlights, making this a truly adventurous experience for all. The rest of the day is spent enjoying the turquoise colored, warm waters of the many virgin beaches that surround the park.
(Approximately 15 minutes travel time from Bayahibe and La Romana)
FULL DAY NATURE TOUR (Approximately 6 hour tour)
Nature Tour Includes: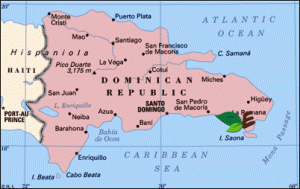 -Experienced, English speaking nature guides
-Transportation in comfortable private vehicle
-Light hike through tropical rainforest (2 hours aprox. )
-Visit to several caves in the region
-Free time to bathe in underground aquifer in a cave
-Free time at beautiful park beaches
-Delicious Typical Seafood Lunch
-Refreshments and snacks:  Water, Juice, Cookies
Private tour pricing:
*Kids age 10 and under travel free. (2 adult minimum)
2 person private SUV tour: USD $150 per person

3 person private SUV tour: USD $120 per person
4 person private SUV tour: USD $100 per person
5 person private tour: USD $85 per person
6 person private tour: USD $75 per person
7 person private tour: USD $65 per person
8 or more person private tour: Contact us
*Tour begins at 9:00 AM
*People of all ages can participate, difficulty level of 1 (easy)
Reserving this tour
PLEASE VERIFY TOUR AVAILABILITY BY CONTACTING US FIRST. THEN PROCEED TO PAY 25% OF THE TOTAL BALANCE ONLINE AS SOON AS POSSIBLE IN ORDER TO SECURE AVAILABILITY. THE REMAINING 75% IS PAID EITHER AT THE START OF THE TOUR IN CASH (USD, EUR, OR DOP), OR IF YOU PREFER, YOU CAN  PAY THE FULL BALANCE ONLINE AT TIME OF BOOKING. (Simply let us know and we will send you a custom Pay Pal invoice via e-mail)